When we started our renovation process, it was 100% about getting a new kitchen, and I knew pretty much exactly what I wanted my new kitchen to look like.
This is what I'm trying to achieve:
View this post on Instagram
Here's another angle:
View this post on Instagram
I actually met this designer at the Oak Park River Forest Kitchen walk, and I acted like a star-struck jackass because I am obsessed with everything she does. And she's local-ish! And I can't afford her! So, inspiration it is.
The only thing I've really deviated from is the backsplash when I became obsessed with this post from another local kitchen designer who I am also obsessed with:
Our house is a bungalow, built in the 1920s, arguably arts and crafts style, but it's unlike any bungalow I've ever seen in the Chicagoland area. Previous owners (we're the fourth in the last 15-20 years) did a major renovation that included an arts and crafts-style fireplace and mantle, so it's not original but it fits the house quite well. The tile they used is green and yellow with some muted reds, so the green tile really spoke to me for the kitchen. So, we're doing it, probably crackle, if it doesn't blow my budget.
But we're here to talk about flush mount and semi-flush mount entryway lighting.
So when we decided to redo our kitchen, we had to move stairs, which pretty much means the entire house is changing. We decided to relocate our stairs to the front of the house, in the living room. HEAR ME OUT.
One of the (only) benefits of moving into the this house and living in it for several months before I said, "I'm calling an architect," was that I realized a few things that really, really bugged me–specifically, not having an entryway. Our front door opened open directly into our living room, and not like, off to one side or anything, right smack in the middle. IT DROVE ME INSANE. With no informal space for a family room, the room always felt like it was trying to do too many things while also being split in half which created a weird flow and a lack of obvious spots to drop our crap when we walked in the door.
Anyway, since we are keepin' it real, here is what my living room/entry way looks like right this second. [Insert screaming-face emoji):
So we'll have an entryway and a small sitting area around the fireplace. So I need to start making some final choices. Here's what is driving my decision for the entryway light:
The fixture must be flush or semi-flush mount because the ceilings are only about 8'7″.
We need at least 2-3 bulbs, ideally at least 60 watts each. This room gets approximately zero light (and we're losing a window) due the huge front porch. I don't mind completely mind it in this room, especially now that we'll have a real family room in the back of the house. I'm ok leaning into the moodiness of this room, which will eventually have a small sitting area around the fireplace.
I am style-neutral. Sort-of. I don't feel I have to stick with the mission-type fixtures the previous owner had, and I don't plan to. It's really not my jam.
I want something that will make me smile when I walk down the stairs everyday.
After looking at 1,000+ pictures of light fixtures (there really are too many choices), here's what I'm thinking about:
Flora Flushmount | Pottery Barn
MID-CENTURY RETRO CEILING LIGHT | Shades of Light
Harbour Point 3-Light Liberty Gold Semi-Flush Mount Light | Home Depot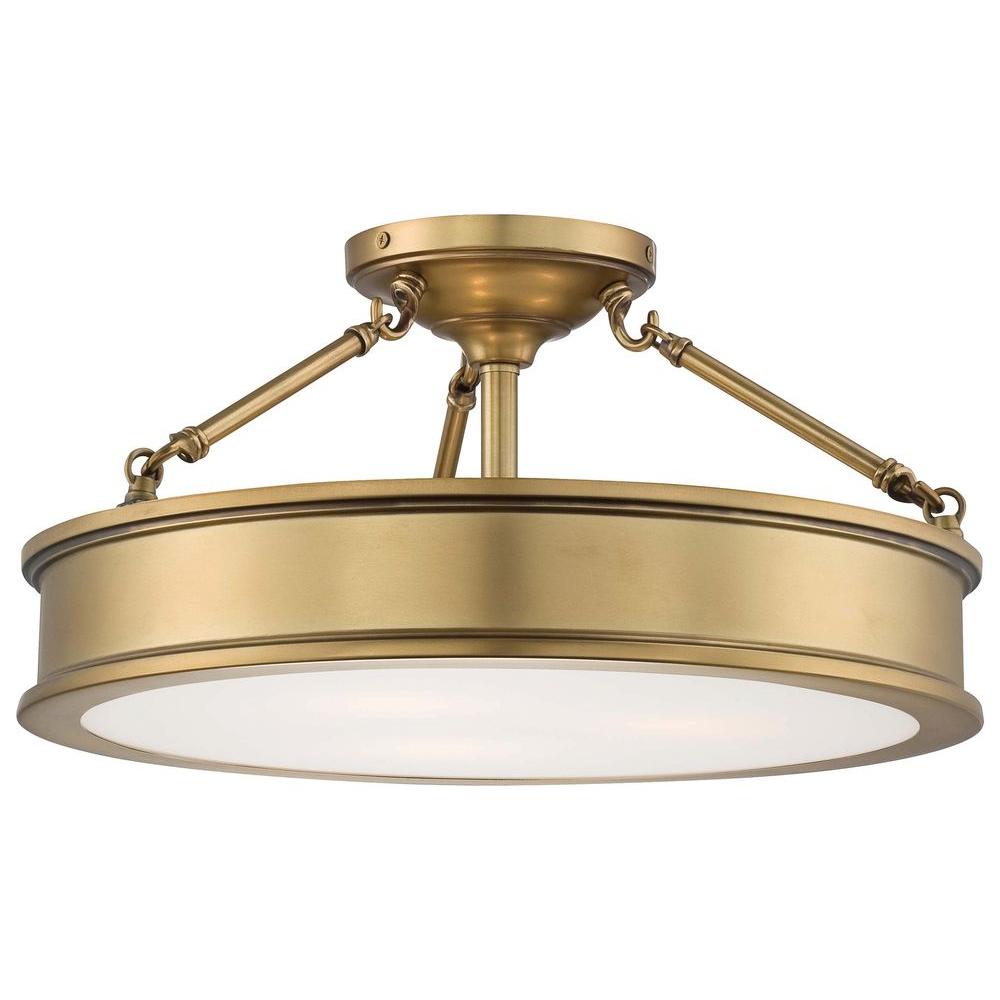 I'm leaning toward the middle option. The Pottery Barn one is a little on the pricey side, and has more of a Victorian feel that doesn't quite fit the house. The bottom fixture feels a little bottom-heavy or something? So maybe the middle is just right.